Meetings & Events
Great Gatherings On The Charleston Harbor
Whether you're planning a board meeting for five or a buy-out of all 52 rooms for a personalized event, the HarbourView Inn is sure to provide an unforgettable experience. Located just off the harbor, our Charleston waterfront hotel is the ideal setting for business meetings and intimate celebrations with friends and family.
Waterfront meetings
Complimentary Breakfast (in room, on rooftop, or in common hotel area)
Complimentary WiFi (in rooms and meeting space)
Complimentary Cocktail at Check In
Complimentary Wine and Cheese Reception
Complimentary Milk and Cookies
Complimentary Bicycles
Rooftop Terrace
Complimentary Pass to Fitness Facility
Floor plans chart
Meeting rooms
Rooms size
(Sq ft)
Ceiling height
Max capacity
U-Shape
Banquets
Cocktails
Classroom
Boardroom
Crescent
Flagship Room at the
HarbourView Inn
546
10 ft
30
18
18
25
25
18
12
Rooftop Terrace
1080
-
-
-
-
30
-
-
-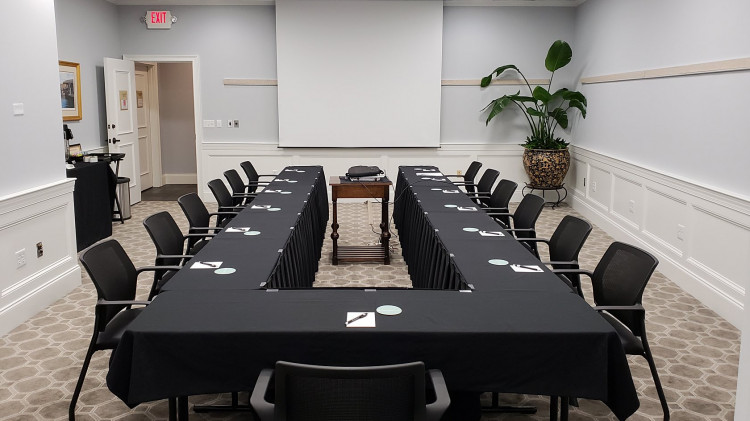 Frequently Asked Questions
See more
How many rooms is considered a "group" to receive a discounted group rate?
5 or more rooms per night is considered a group
Is there a Food and Beverage Minimum in the meeting rooms?
There is not a food and beverage minimum
Is there a restaurant on site?
No, however we are only a few short steps from some of the best restaurants in Charleston
Is there a Spa on site?
No, but we are only two blocks from one of the best spas in downtown Charleston, Earthling Day Spa. We also can arrange for certain in room treatments
Does the meeting space have natural light?
No
How large is the meeting space?
For larger groups, our sister hotel, French Quarter Inn is located just a couple blocks walking distance away. They have larger sized rooms with lots of natural light as well as a beautiful terrace.
Does the Hotel do buyouts?
Yes, we love buyouts!